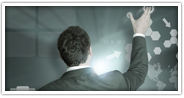 Nicety is a Boutique Investment Banker assisting corporates in Private Equity Funding, Mergers & Acquisitions, strategic advisory, organisations structuring.
We are sector agnostic advisory firm with clients in Engineering, Food, FMCG and Information Technology industries.
Incorporated in October 1995 to offer specialized financial services to corporates world assisting in Private Equity Funding, Corporate buyouts/ Sellouts, Strategic Investments, Working capital Management, Corporate Structuring and business development.
Nicety established good contact base with Private Equity Funds, Angel Investors and corporate.
Dedicated team of well trained professionals in the domain.
Nicety is a corporate member of TiE, Bangalore Chapter
Nicety has quite a good number of mid sized and start ups as customers in IT and Non-IT sector.
Built a vast connections with many of the conventional and technology companies.
Have a satisfied clientele list with good number of successes in India, USA and Europe.
Have a strong business associate base across horizon to synergise and handle issues.
Nicety Financial Consultancy Pvt. Ltd.
#54, 4th Cross, Thirumalappa Layout
Hosapalya, Behind HSR Lyt. 3rd Sector
Begur, Bangalore 560 068,
Karnataka State India
Tel:+91 80-2573 2934
Skype:nicetyconsult

Cell:+91 94481 40425
Email:dwarakster@gmail.com
dwarak@nicetyconsulting.com
Info@nicetyconsulting.com